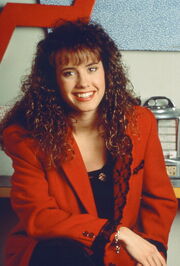 Leanna Creel (born on August 27, 1970 in Los Angeles, California) is an actress known for her role as Tori Scott on "Saved by the Bell."
She is an identical triplet (along with her sisters Joy and Monica).
Early Career
Leanna and her sisters appeared in two television movies "The Parent Trap III" and "The Parent Trap IV: Hawaiian Honeymoon."
In 1992, she guest-starred on "Beverly Hills, 90210" along with sister Monica.
Career After "Saved by the Bell"
After her time on "Saved by the Bell," Leanna guest-starred on television shows such as "Ned & Stacey" and "One West Waikiki."
In 1994, she produced her first film, helping out a friend whose producer had been in a car accident. Leanna also worked for the game Hollywood Stock Exchange. In 1998, she founded a film production company called Ignite Entertainment.
These days, Leanna is now a wedding photographer.
Trivia
In 1993, she graduated from UCLA with honors and a B.A. in history
In 1996, she graduated from UCLA with an MFA in film & television
On June 18, 2008, she married her girlfriend Rinat Greenberg.
On June 20, 2008, her wife Rinat gave birth to their son Levi Creel-Greenberg.
Ad blocker interference detected!
Wikia is a free-to-use site that makes money from advertising. We have a modified experience for viewers using ad blockers

Wikia is not accessible if you've made further modifications. Remove the custom ad blocker rule(s) and the page will load as expected.