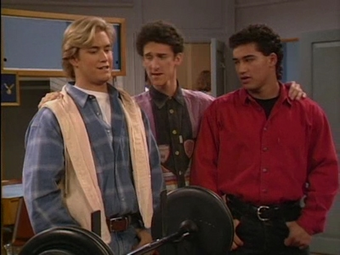 The Pilot Episode is the First Episode of
Saved by the Bell: The College Years
Plot
Zack Morris, A.C. Slater and Screech Powers enroll at California University near Berkeley. They stay in a co-ed dorm and meet new friends that include rich student Leslie Burke, theater arts major Alex Tabor, insecure student Danielle Marks, and their no-nonsense resident adviser Michael Rogers, a former football player who tries to subdue the devious Zack in his plans to slack off as well as planning more get-rich-quick schemes. However, he learns fast that college is not like high school, and his old scams and pranks won't cut it anymore.
Meanwhile, Slater has second thoughts about being in the college wrestling team.
Ad blocker interference detected!
Wikia is a free-to-use site that makes money from advertising. We have a modified experience for viewers using ad blockers

Wikia is not accessible if you've made further modifications. Remove the custom ad blocker rule(s) and the page will load as expected.